Ich ziehe derzeit um und habe meine Stoffe neu durchsortiert, dabei ist mir eine feingestreifte Bettwäsche in die Hände gefallen, die perfekt zu einem Regencykleid passen würde. Und da BlackSnail ihr neues Schnittmuster getestet haben wollte, dachte ich: so ein kleines Regencykleid kann man auch während eines Umzugs mal eben nähen!
Ich habe dieses Schnittmuster verwendet und dementsprechend abgewandelt.
I am moving at the moment and I found some fine striped bed linen, that would be perfect for a regency dress. And coincidentally BlackSnail asked a few people to try out her new pattern, so I thought: why not sewing a little regency dress?! I used this pattern with some adjustments.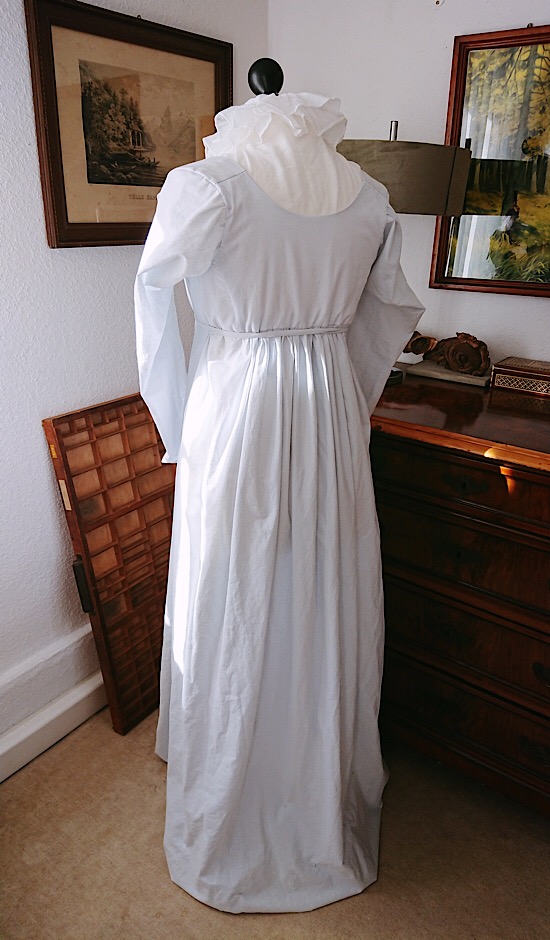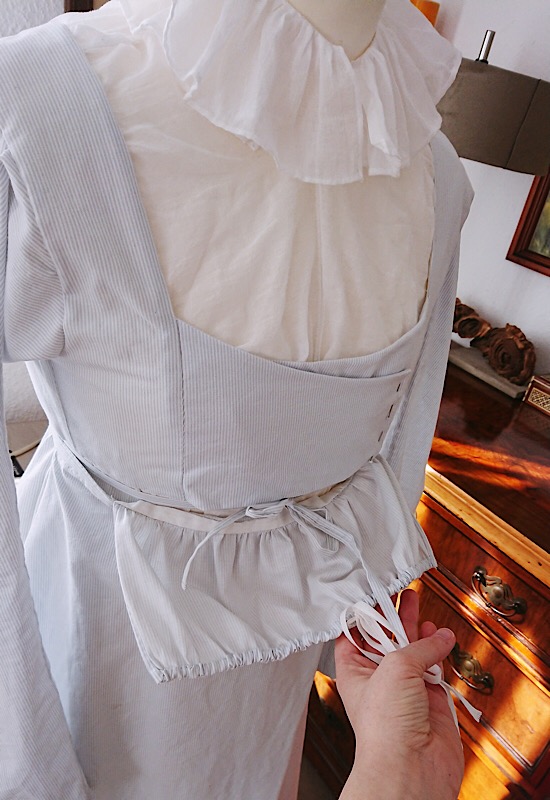 Leider gibt es keine Entstehungsbilder, aber die sind dem meines Ballkleids ja sehr ähnlich. Wie man sehen kann wird das Kleid vorne mit einem Latz geschlossen. Außerdem habe ich die kurzen Ärmel durch lange ersetzt um das Kleid als Tageskleid tragen zu können. Außerdem ist meine neue Chemisette zu sehen, die ich aus feinem Batist gefertigt habe. Die lag schon viel zu lange unfertig im Karton und ist jetzt endlich fertig geworden. Beides ist übrigens komplett handgenäht (bis auf ein paar Kleinigkeiten am Kleid) Das schreit ja geradezu nach der Schute vor der ich mich ja schon so lange drücke, damit das Ensemble auch auswärts getragen werden kann.
There are no making of pictures, but it was the same process as my regency ball gown. The dress is now a bib front dress and got some long sleeves, cause I wanted a daydress. And as you may noticed I finished my chemisette! It is out of batist and lay a long time unfinished in a box. Both things were sewn by hand. Now I can start with a bonnet hat, that is such a long time on my list but I don't have the motivation to start with…