Die Regency Mode ist nicht gerade bekannt für die wärmsten Kleidungsstücke, aber dennoch wollte ich ein Outfit, dass ich auch im Winter tragen kann. Ich bin eher per Zufall über ein Modekupfer gestolpert und habe mich auch sofort verliebt. In meinem Stofflager gab es auch verwendbares Material und so habe ich mich gleich an die Arbeit gemacht.
Regency Fashion is not famous for warm clothes, but I still wanted an outfit to wear in winter. I searched for fashion plates and fell in love with this one. Thank god I had matching material in my fabric storage so I could start immediately.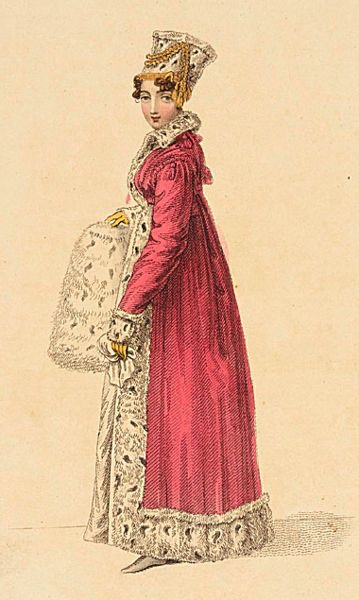 Als Stoff habe ich einen roten (leicht rostfarbenen) Woll-Mix-Stoff verwendet. Basierend auf meinem selbst entwickelten Spencer-Schnittmuster habe ich das Oberteil zugeschnitten und zusammen genäht. Für den unteren Teil habe ich etwas länger gebraucht, denn durch die Dicke des Stoffs neigt der Rockteil zu seltsamem Faltenwurf und ich habe lange ausprobiert, um die perfekte Faltenlegung zu finden, ohne dass ich deformiert aussehe.
I used a red wool-mix-fabric and my selfmade spencer pattern for the bodice. The skirt part was quite tricky, because the fabric is very thick and heavy and I had to find the perfect position and width for my folds.